Streetdogs

1976 thru 1985

in order of their arrival

CORE MEMBERS

SECONDARY CORE

role with streetdogs

inconsequentials

Sean Kennedy

Lead Guitar

Ziphler

Bass

sound
Miguelito (Michael Doughton)
in original pre-dogs jam circle
The MD Band
Oliver Troster
Vocals
only the good
Justin Hess
Drums
Laura Coughlin
only the good
Marcus James
Floyd (David) Dart
Rhythm Guitar 1977
Bob Keislar
Rhythm Guitar 77-85
Nearly Normal Norman (Malin)
Fender Rhodes 1978
only the good
The Reverend Bruce (Campbell)
David Ziegler
All Guitar, Violin 77, 80-85
sound
Ray Guppy (J.R.)
Folk Singer
Art Thompson
Lead Guitar 79-85
managing editor guitar player mag(WOW)
Bob Hsueh
Carpenter
Carpenter
Mark Phillips
Drums
Frenchy Thimon
Lead Guitar
Bundy Brown
Guitar, Mandolin
<![if !vml]><![endif]>
<![if !vml]><![endif]>
And you are the one who is supposed to have found meaning in life. On the one hand you say we are all fallen as if there were some kind of perfection, and are driven by ego and pride [if only it were true - there would be a perfect universe, filled only with Ziphlers] which are both excellent motivators however I think you use these terms, like many do, to describe selfishness, conceit, and self righteousness. About the writing style I was just playin' with you as Sam would say. I don't care about style and as for content; you can't blow the truth out of anywhere sonny. Actually, the only thing that stands out from our recent dialog is that you don't employ a spell and grammar checker. Miguelito is probably a self contained walking talking spell and grammar checker so no comments from the PEEWEE gallery please.
I was trying to obliquely point out what I hope we can all agree upon, which is that we actually communicate with music, at least those who have the knack, and you Sean have conveyed a simplicity and beauty thru your guitar that captured my soul long ago. That is how I know you. There are extremely talented musicians who convey really wretched, even painful emotions that I can't stand and yes, like with any other skill or talent, there are musicians who use their abilities to lie and deceive. Mostly, in these sadly zany times, there are musicians who have absolutely nothing to say and just like most Americans, are consumed with self-preservation and protecting their nail polish.
You, me, and Miguelito [and Bob Hsueh] literally lived within 30 feet of each other during the 71-72 school year. You played your tinny little electric guitar thru my wall, morning, noon, and night, (and smoked a shit-load of pot). Miguelito spun "bye bye miss American pie" at high volume 400 times in one quarter [that apparently was some other guy] and I retreated to Bob H's room and played Hearts with Bob Amador and Al Wilcox while we listened to the Grateful Dead at Harding theater (and smoked a shit-load of pot), recorded on two reels of tape in November and mailed to me for xmas by my big brother. We had little to say to each other until I returned to Isla Vista in 1975 and mentioned that I had been messing around on bass when we ran into each other at the top of the loop. You made it very easy for me. You knew a guy with a drum set (Bxxx Rxxx?) who also had some other equipment like a Gibson SB bass (what a piece of shit that was) and amp just a block from my house. We played moondance for hours and meticulously worked out your dinosaursong. Before I knew it, Doughton was there too. I have tapes to prove it. I distinctly remember the three of us discussing what a Bad drummer Bxxx was (and smoking a shit-load of pot) but he was providing the space and 80% of the equipment.
You called all the shots back then. My already perfect life was just getting better and better now that I was topping off every day with 4 or 5 hours of loud jamming. I had no interest in politics or organization. I suppose you'd been working the Isla Vista circuit for a few years by then. It astounds me how little thought I gave to how things happened around me back then. Somehow the miracles kept happening, Like with Rxxx. No sooner were we having that discussion when BAM! Bxxx was gone but we still had all of his equipment (including the drum set).
I have no idea what you did with Miguelito. One day I looked up from a bong hit and there was an Indian guy named Floyd wearing a cowboy hat and warbling dead tunes which were easy for me to learn cause I'd been to about 60 Dead shows between 69 and then. I wonder if Mike didn't just graduate like when one was supposed to if one started in 1971. [that's exactly what happened] I do remember thinking of him as a real musician and a part of the Isla Vista elite. He actually had some structure and even arrangements. You though were the bong king, more my kind of hero, and you played the guitar like a babbling brook. No irritating bridges to stumble over, no talk, just bongs and then hours of wandering scales. Occasionally Floyd would knock us out of the clouds and we'd come to earth long enough to run a couple of Merle Haggard verses but then we'd take off again.
I don't think we ever agreed on anything but I don't believe we ever exchanged enough words to really even determine our irrelevant relative differences. I believe I know you and Justin better than anyone else (throwing out family here and those few souls with whom I've had immediate perfect sex - I just don't know how to factor them into this one) on the planet. You may be more enlightened than 99.9% of the Catholics on the planet, you certainly have a better grasp on things than any of the Popes ever did - but sorry Charlie - all that catholic gibberish and simple minded overlay providing upper level management of this truly wondrous and insanely complex infinite universe is just bizarre and more importantly, belies the true knowledge of you that I'm stuck with. Believe me, your words would not have held my attention for 20 seconds. As thoughtful as you are in your attempts to reconcile WHAT SOMEONE ELSE HAS TOLD YOU IN WORDS with what you know in your heart, you're still just spewing other peoples sentences.
Does anyone in this room not get that it was the development of vocal cords and articulating tongues lips and teeth that has brought our little paradise to its knees? There was no way to falsify facts prior to this. You could hide, lay in wait, or distract attention but there was no way to pass on false or fantastic information. All you could know was the naked truth of everything.
So, as I was saying, on the one hand you are falling out of something cause you've been "bad", and you are full of sin yet you find it ludicrous that people may have self doubt. Mind you, I was referring to Bob's single deflating statement about losing. It seems to me that to the extent Bob had any self-esteem issues, and all humans do, it was because of how WE treated him, not his parents. When he came into the picture it was as an experienced rocker into an established band. He brought with him all the structure that we might have had if you hadn't done something with Miguelito. I do not perceive that Bob was ever pummeled by authority figures although they may have coddled him a bit. I think Bob's parents must have been quite remarkable, as were my own, no doubt yours, and that whole "greatest generation". They all got so used to solving everything that was thrown at them that when it came to dying, they assumed they could lick that too; so many didn't die well.
I'm have to go without having schmoozed you or abused you near enough. Mark Phillips just about died a couple of days ago (OCT 2006) and may be looking at a liver transplant so I gotta go.
MIGUELITO to ZIPHLER
Dan,
. . . I found the Street Dogs history lecture utterly fascinating and thank you for the very kind words. I would salivate at the opportunity to get a copy of your tapes of any Street Dog jams in which I participated. Can you do that?
I'm not sure that Sean "did anything with me" to cause me not to join the Street Dogs. [OK, I admit it. I was blaming Sean for less than kosher political shenanigans in an effort to absolve my own guilt over my own rejection of Miguelito as a candidate for (it turns out) the same reason he chose not to play with us] My memory of that time is that it was Sean's gig with a bunch of other guys and I was kind of an outsider who just jammed with the proto-group a number of times before it actually formed and became its own thing. I never felt that I was really a member of the group. Also, it had a slightly different vibe than I preferred at the time, not being a radical dead head as much as the other Dogs. At the same time, I was forming my own band, Wicked Laundry, which never achieved the success that the Street Dogs had. I very much admired (and was even jealous of) the Street Dogs' success and family vibe. That was what I always wanted (and still want!)--a FAMILY of successful musicians. You guys had it, and it was good. I am honored to have been a small part of its history. Can you burn a CD of those jams for me?
[I am discovering how truly bad the really early stuff is which was mercifully recorded OVER the even earlier stuff that you are requesting but I will persist in my search if only so that I may passive-aggressively punish you for the humiliation rained down upon me for the American pie faux pas.
Many thanks!
--Miguelito
p.s. I don't think I owned a copy of "American Pie" at the time, but everyone else in the dorms apparently did. So it probably wasn't me playin it. I guess that means you can finally let go of your anger. [Not until I ferret out the party responsible]
<![if !vml]>
<![endif]>
Installment 1-history

Here's my take:

Dan-I think you had a fairly accurate account of the Street Dog History. One thing I thought interesting was your take that it was not your idea to play a lot of dead. I'm thinking, had I known that, we should have branched out a lot more. I was marginally into the dead. Hey, I loved their music and Jerry's playing, don't get me wrong, but we overdid that act. I think what made it acceptable for me was that it was a lot of improvisation.

I will address the pot-smoking in a separate discussion.

Why didn't we play more with Mike? Good question. The Billy Reidel take was very accurate. After we jammed for a while it became apparent we couldn't continue with him, and I never thought much about it but it did kind-of fall into place after he left. We were playing with Mike quite a bit too.

But you Z were correct again in that I think Mike needed a little more structure. He and Karl Borden started to play more together. I even played a few times with them. They were very serious and wanted to play tunes like the records! I wanted to have long guitar jams and who cared about singing! I think by mutual consent we determined that our development and style paths were diverging, although we did still share that musician status and occasional jam session.

I remember seeing Mike with <![if !vml]><![endif]> (whose name I believe was created in my presence after a jam with Karl and Mike and some drummer, maybe Chuck?), although maybe that's me wanting to insert my place in history as I think Karl has pointed out before) and also being jealous when a crowd gathered and the other Mike (Cumings?) on vocals and the Launderer's sounded really good. My only consolation was that "yeah, but they can't jam like the Street Dogs" (or was that had the sense not to?).

Doggies,

The gig was July 23, 1976, in the back driveway of my place at 6686 Del Playa. A big crowd. I used my Les Paul Custom with P90 pick ups, I think through my Fender twin, played through a Mutron III envelope filter (which I still have). The Wicked Laundry power trio plus Mike Comyns on vocals:

Michael Comyns: vocals Will Adams: drums

Carl Borden: bass Mike Doughton: guitar

The songs performed (in order) were:

1. Pinball Wizard 6. My Wife 11. Lady Love

2. Day Tripper 7. Fire 12. Come On

3. Walk Away 8. Purple Haze 13. Helter Skelter

4. Garbage Boogers (Doughton) 9. In Memory of Elizabeth Reed 14. Live With Me

5. Turn to Stone 10. Suffragette City 15. Jamming

That gig still gives me chills. --Miguelito

I remember putting in garage time at the del playa house and it was there that I realized I had a connection to the spiritual body of music that permeates the universe. The music was out there, assessable, never ending, and as it traveled through infinity I reached up and grabbed it, and brought it down to my level. It starts with God and it goes to God, if you would allow me this one reference. He graced me to temporarily use it; and sometimes even today I am able to re-enable that connection.
I was proud (in a good way) to experience it with my friends Dan, Floyd, Bob, Justin (we had another drummer ? who played but one day Justin sat in and we knew he fit), and what was his name-oh shit, how could I forget the lead vocal as I see his face and VW bug so clearly, Eric?, Peter?, Gino?, Paul?, ...Dan knows. He was a damn nice individual.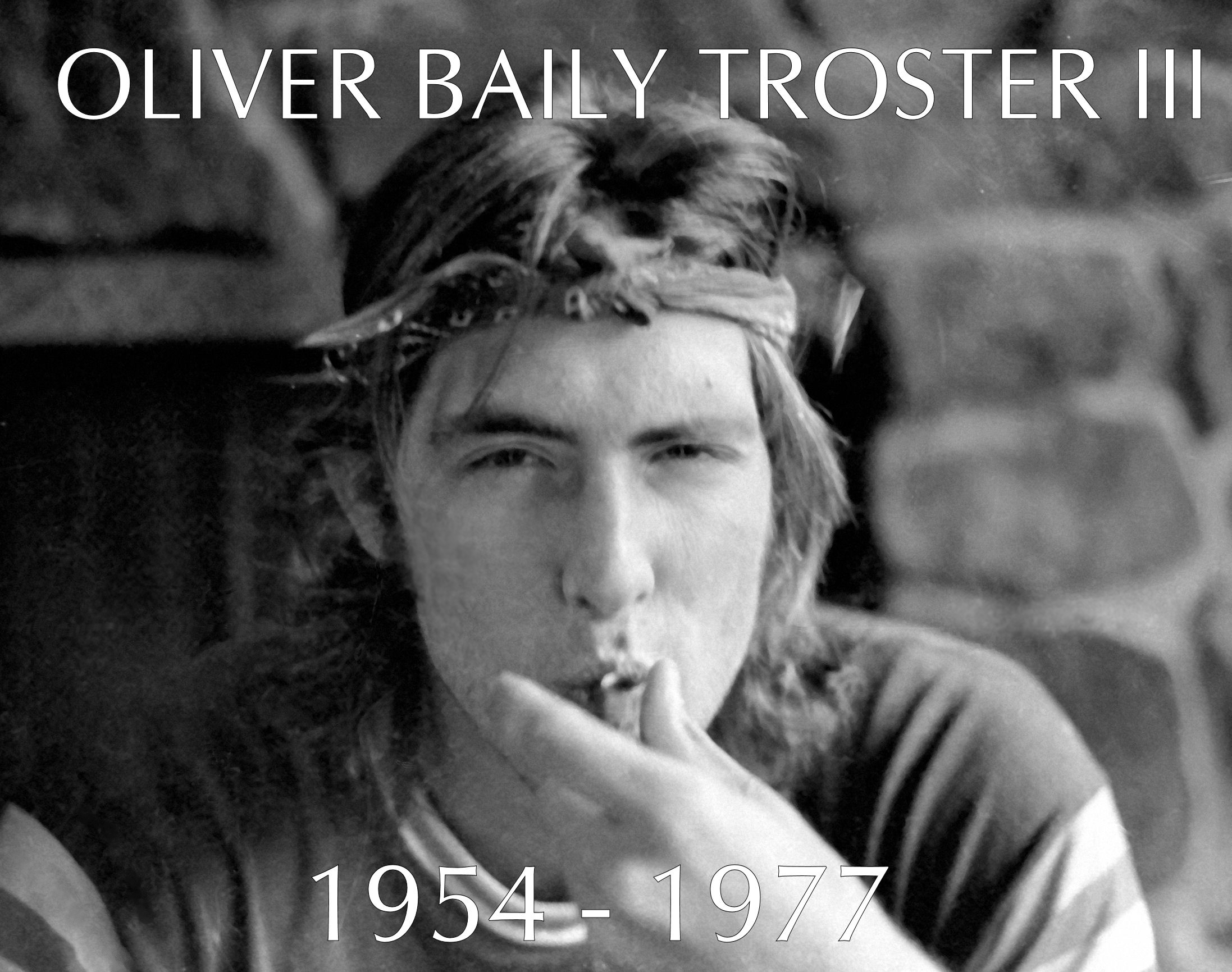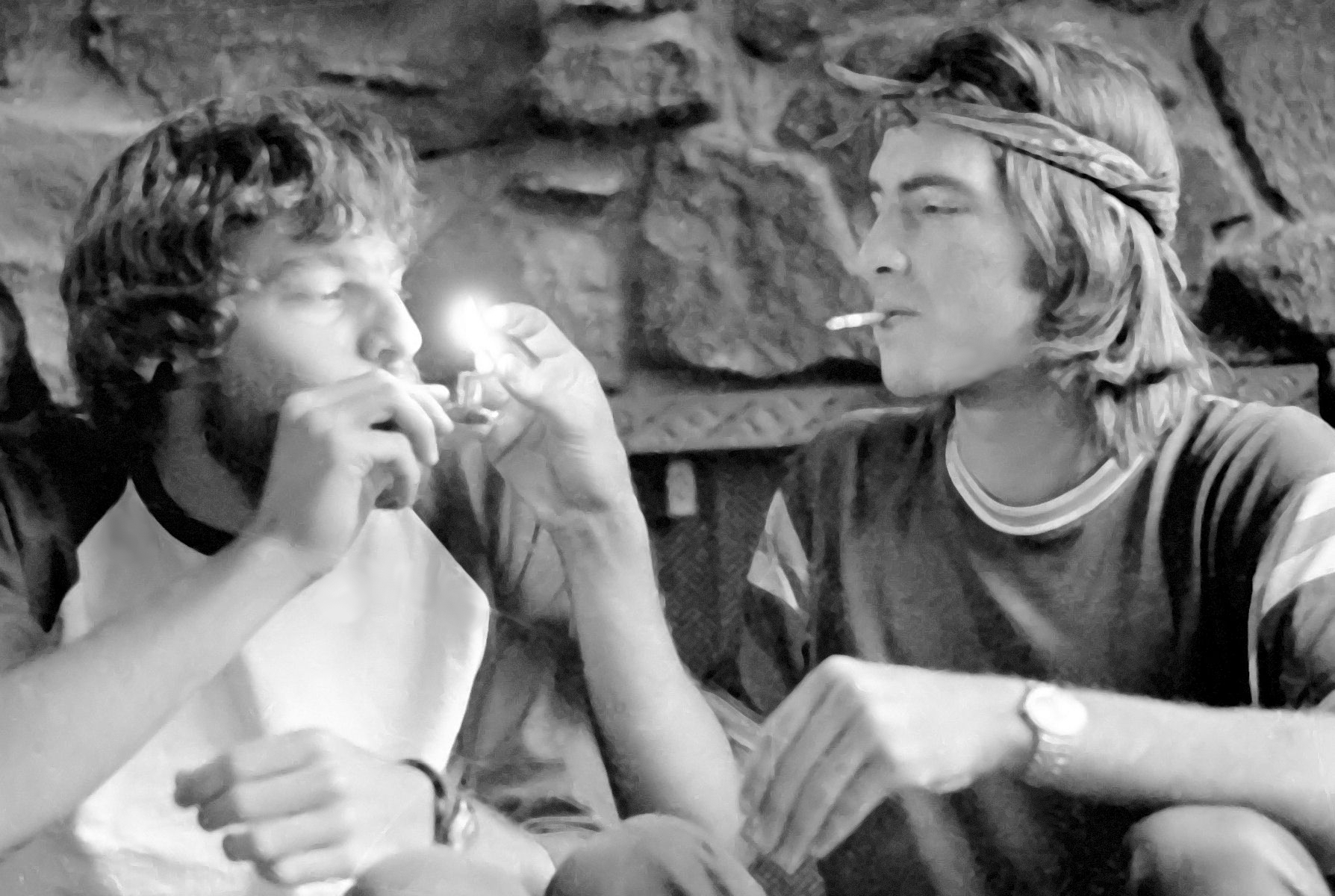 >Please tell me about Oliver. I very vaguely remember him. Was he in the band? What did he play? What was his story? --Miguelito

Yes, Bob was also cut from a little different mold, more structured and conventional (in a good way!) but very adaptable; he was able to come to our street dog level. Though Floyd had the "spirit" and technical ability, he lacked the timing. Its funny because I've since noticed that there are a lot of musicians who are brilliant technically but completely miss the existential instantaneous nature of the blended harmony of the band. There is nothing like playing in a band when creating real music! Its a rush that I get to this day.

Well ok. Long story short. I needed to grow more because lets face it, the street dogs eventually became an obstacle to my own personal growth and development, and in my opinion, to others in the band although that is a value judgment on my part and I'm sure everyone's view is a little different. That's what I truly believe though. Sack me for it if you must.

Gotta go.

Sean

ps-I'm using spell check now.

[Jerry Garcia often spoke about living in the note or being present during the entire envelope of each note as opposed to rushing off to the next note before truly completing the one you are still playing. So that even when playing fast you are relaxed in the here and now and crafting a complete beginning, middle, and end for the entire note before thinking about the next one]

<![if !vml]>
<![endif]>
Day 8 2006 10:29
RE: Howling Dogs

This is all very interesting! I was just glad to meet you guys. And I knew we all wanted to make creative original music.

In short, we didn't practice enough in relatively soder* spaces so that we could create and maintain a consistent soul-shaking groove. We came in fits and starts, sometimes good, sometimes way too ragged. But we tried, at least for a while. It's so tough to keep a band together, especially when there's so much talent in other areas. Doctors, lawyers, environmental scientists (my buddy Sean is most like me!) . . . music was a hobby sometimes, not a vocation, like it had to be if we were going to make it on the live circuit back then.

But to this day, I have some good memories, good friends, and a couple of songs to show for it all. And we should have played with Mike more! One night, after Mike played a party with me at my Eugene house, along with my trio, my advisor at UofO physics dept, although a chemist, told me "You're in the wrong place at the physics dept. You should be playing music!" But I went on in physics . . . Why? Why physics instead of music?

Security? Because I knew how hard it was to keep a band together, practicing enough to get really good? Because I gave up? I don't know . . . sometimes things just work out that way . . .

Bob K.
*They have a saying on the south side of Stockholm: Soder is Soder. In other words, Soder, short for the island of Sodermalm, goes its own way. People who live here even talk differently, speaking what's known as Ekensprak. More than just a dialect, it incorporates unique words and slang, a bit like . . .. [sorry folks, its the only reference to this word I could find and they want me to pay for the rest Who ever knows what the hell Keislar is conjuring anyway]
SCROLL DOWN THE FRAME BELOW TO VIEW THE
MEMORIAL DAY 1977 ENCAPSULATION
<![if !vml]>
<![endif]>
Doggies:

Sean's description of my involvement with the Street Dogs is 100% accurate and consistent with my own memory of those days. He is also correct that the name "Wicked Laundry" was created (by me) in his presence. If we ever go together to UCSB (like I suggested we MUST do next year) I can show you the exact spot on campus where we were walking when I blurted out that name. Everybody cracked up, especially Sean. Then I knew I had the name.

Just as I had a part in the early Street Dogs, Sean also had a significant part in the early Launderers. I had actually hoped that Sean would join <![if !vml]><![endif]>, but his Street Dog gig seemed to have taken off in its own direction was doing quite well. I was kinda bummed and jealous. Isn't funny to learn all this stuff 30 years later? Thanks for the fascinating first hand history lessons right from the source! Let it be written in the history books, including the Dog Blog!

By the way, the Del Playa <![if !vml]><![endif]> gig Sean refers to was an absolutely awesome gig, perhaps my best ever. We ROCKED, and I HAVE IT ON CD! Perhaps I could swap Z for a copy of the early Miguelito-Dog garage jams?

And Sean, I'd still like to get my hands on a copy of that song:

<![if !vml]><![endif]>

you played for me once in the 1980's which featured a spine-tinglingly excellent lead by none other than the Seanster himself.

Sean, whatever happened to those studio songs you were working on during the last year? You sent me rough mixes, they were good. Did you ever finish them? If so, I'd like a CD copy.

I'm serious about getting a copy of this stuff, it's precious and should be preserved and shared. Let's do it, and then let's get a bungalow in Isla Vista next summer and jam our asses off!!!!!!!

With infinite love and respect,

Miguelito
<![if !vml]><![endif]>

Mike,

Here is the song you requested however it ain't Sean's. Sean's similar POP wonder was "I Wanna Know You Better" Art Thompson joined Streetdogs in 1979 or 80, about 6 months after Ziphler joined Art's band; "The other one" which took a slightly different approach to being a Dead Band by concentrating on recreating the performance. They practiced at Lawrence Livermore Labs in Hayward of all places because that is where Bartolini Guitars and pickups had their shop and Art worked for Bartolini [as I recall making stone pickups when I met Art.]

Everyone was

ripe to shed the grateful dead window dressing by then and no one transitioned from total immersion to something entirely different more completely than Art. He in fact dropped any nuance of Garcia tonal purity and voraciously dialed up the harmonic distortion. He possesed a singular impatience with lilting down time in a band's performance so when some of us would succumb to post seventies sensitivity and deign to waste our audiences' time with self-indulgent lapses in inspiration, Art would come blasting out of the gate with pumping, awe-pummelling, lead work that would cause the crowd and myself to whoop it up and howl in a spasm of relief, while silently saying with a mutual glance - "yeah, that's what I'm talkin' about".

Most people were actually surprised to learn of Art's Dead history after that. The biggest surprise out of Art however was his knack for writing pop rock tunes, that ability to take something obvious, even cliché, and make it into a new and catchy song. Listen to "All we need is Music" to see what I mean. But right now, listen to this! It is not cliché and in fact very clever and a song most people want to hear again after their first exposure. Yes Miguelito, good call. The song is called "She Isn't Crying" written by Art Thompson. The tag is: "it just a reflection of tears in her eyes". What a great line and it's attached to just the right progression too:
S H E I S N ' T C R Y I N G
-------------------------------------------------------
Words and Music by Art Thompson
Vocals - Art Thompson, Robert Keislar
Guitars - Art Thompson, Sean Kennedy, Robert Keislar
Bass - Ziphler
Drums - Justin Hess
Recorded at: Bearwest Studio
San Francisco, California
1980
http://www.streetdogs.com/Doghouse/mp3/sheisntcrying.mp3
SEAN
SEAN - A very good rock song. We reached for it and just about got it. The energy is there. The first thing that sticks out is the bass part and the rhythm guitar accents. The bass part is nailed. The energy is raw. Its out of control and in control at the same time. The vocals are good, too. Not too sweet, just right for rock. Dan, do you have the master to this? I think we should remix, put rounded corners on the rough parts (just a little without hurting the energy) and release it as a single. With technology what it is today, we might be able to even enhance some parts. I'd be willing to put up some money for that.
MIGUELITO - DO IT !
ZIPH - I actually am amazed at Art and Bob s testicular display in even attempting sustained vocal "cry"s at the end
MIGUELITO - a friggin masterpiece. Now, THAT'S a band. Sean, you blow me away. What a pinnacle of talent. Wow.
SHE ISN'T CRYING

-------------------------------------------------------

Words and Music by Art Thompson

Vocals - Art Thompson, Robert Keislar

Guitars - Art Thompson, Sean Kennedy, Robert Keislar

Bass - Ziphler

Drums - Justin Hess

Recorded at: Bearwest Studios

San Francisco, California

1980

---

SOLAR PLEA

-------------------------------------------------------

Words and Music by Robert Keislar and Justin Hess

Vocals - Robert Keislar, Ziphler

Guitars - Art Thompson, Sean Kennedy, Robert Keislar

Bass - Ziphler

Drums - Justin Hess

Recorded at: Bear West Studio

San Francisco, California

1980

---

TIME RAINS WORDS

-------------------------------------------------------

Words and Music by Justin Hess

Vocals - Robert Keislar, Justin Hess, Sean Kennedy

Guitars - Sean Kennedy, Robert Keislar

Bass - Ziphler

Drums - Justin Hess

Recorded at: Doghouse Studio

Redwood City, California

1982

---

UNCONDITIONAL LOVE

-------------------------------------------------------

Words and Music by Robert Keislar

Vocals - Robert Keislar

Guitars - Sean Kennedy, Robert Keislar

Bass - Ziphler

Drums - Justin Hess

Recorded at: Doghouse Studio

Redwood City, California

1982

---
<![if !vml]>

<![endif]>California Medical License G8654
Emergency Physician Daniel Ziegler, M.D.

410A Washington Boulevard

San Francisco, California 94129
[email protected] voice: 707-291-6432

facsimile: 415-422-0836
<![if !vml]>

<![endif]>
THIS SHIT IS FUCKING GREAT.

Bob's singing and songwriting are awesome (Solar Plea is even more contemporary now and should get CONSTANT radio play). The vocals rock. The rhythm section is solid. Sean sears the frets. The timing is perfect. I have UNCONDITIONAL LOVE for this band and its members. Truly impressive stuff. I wish I had been in a band this good. Thank you.

--Miguelito,

permanent Dog devotee.
ZIPH - does that mean maybe you won't be too busy to play keyboards?
Nah, I want to learn to play guitar as righteously as Sean, then replace him. Sean can play keyboards Let's have a long weekend at my house soon to discuss this, play poker, jam, plan, listen, and drink!

Group hug, Miguelito
Introduction: The following is an urgent howling plea, with wagging tail.

Facts: I have an hour of radio time to host my own radio show on UC Davis's radio station KDVS (90.3 FM, Davis Ca). KDVS also broadcasts worldwide over the internet. I can do my show at any time. I have been greatly inspired by the music of the Street Dogs.

Issue: I would like to feature The Street Dogs on my radio show, along with other original stuff.

Discussion: Any objections? A little exposure and maniacal adulation couldn't hurt. Why keep Dogs in a closet? It is NOT better to let sleeping Dogs lie!

Conclusion: Please respond to my idea! Many thanks from your biggest fan.

--Miguelito
NEO RENNIE

-------------------------------------------------------

Words and Music by Robert Keislar and Justin Hess

Vocals - Robert Keislar, Justin Hess, Sean Kennedy, Art Thompson, Ziphler?

Guitars - Sean Kennedy, Robert Keislar, Art Thompson

Bass - Ziphler

Drums - Justin Hess

Recorded at: Doghouse Studio

Redwood City, California

1982

---

TAKE ME FOR A RIDE

-------------------------------------------------------

Words and Music by Art Thompson

Vocals - Art Thompson, Robert Keislar

Guitars - Art Thompson, Sean Kennedy, Robert Keislar

Bass - Ziphler

Drums - Justin Hess

Recorded at: Bearwest Studio

San Francisco, California

1980
How I spent this evening

--by Miguelito

I went to my ancient wooden college book shelves (hidden in a back closet) and found the rows of old reel to reel tapes I kept all these years. I found tape #12, which is labelled "Wicked Laundry --Live! 7-23-76" and dusted off the Maxell box. Inside was a carefully preserved tape reel inside a plastic bag, just like new. Next, I dusted off and plugged in my ancient Dokorder reel to reel tape machine. The last time I used it many years ago, it had major wow and flutter issues. On went the WL reel, and I pressed "start".

Out of my speakers came . . . . . . . . PERFECT SOUND! No noticeable wow or flutter. Playing my digital keyboard to the tape, I found that it was in perfect pitch. 17 tracks, including LOTS of crowd and band banter in between songs. INCLUDING quite audible references to Sean and "Dan Ziegler". The piece de resistance is that the last track has Sean joining me for a long jam! I managed to tranfer the entire gig onto CD!

Right on dudes, we must schedule the next poker game so we can hear all of our stuff! And jam!

--Miguelito

OK, now that Ziphler taught me how to download MP3s onto a CD, I can play these on my hunky stereo and actually hear the bass. Nice work Z, tasty and tight.I'm guessing "Neorennie" is a veiled reference to Michael Rennie, star of "The Day the Earth Stood Still"? Sean, what guitar/amp set up were you using on these tracks? I love your tone.

--Further, MiguelitoI

<![if !vml]><![endif]>Wow I didn't know it [neorennie] meant something but I guess this means I spelled it right, that had roused my concern.

I believe that was a 100 watt Gallien-Krueger 212 combo guitar amp. That amp had a lot of power, but partial credit goes to the guitar. I was playing a Gibson SG special that had been modified by Art. He installed a preamp and two seymour Duncan pickups. That probably gave it its screaming quality.<![if !vml]><![endif]>

Did you say I jammed with Wicked Laundry at that event? I did not remember that. Wonder what that sounded like? Can wait to hear it.<![if !vml]><![endif]>

Sean,

Let me get this straight--you CAN wait to hear our jam? Well, OK, but gee shucks, I kinda thought you might be at least a little interested. Actually, it's a 10 minute jam, not sure if it'll fit on this email, so in the mean time I'm sending some smaller files for your listening enjoyment, at least until I have time to read Dan's technical instructions! And yeah, your Artized Gibson SG really rocked.

P.S. Today, I made an impulse purchase of my 10th guitar. Well, it's actually not exactly a guitar, it's a hybrid between a bass and a guitar. It's a Fender Jaguar Baritone Custom. It's got 6 strings like a guitar, but they're big thick suckers tuned a full octave lower on a 27" scale neck. Wild!

<![if !vml]><![endif]>
You guys are having too much fun! Don't you know how OLD you are!?! You can't have that much fun anymore. I'm sorry. I'm sorry to be the wet blanket . . .But when's the party!?

Bob K.
The party starts NOW and continues until we finish it at my house! How about one of the first two weekends in November?

--Miguelito
Wow! That was tasty. Guitar and drums were excellent and the recording quality really good. For my next course I would desire Helter Skelter, please.

<![if !vml]><![endif]>
Thank you, kind sir! As requsted, attached is our special of the day, served hot. Enjoy!

--Miguelito
<![if !vml]>
<![endif]>
<![if !vml]>
<![endif]>
Good Hendrix, Michael!

--Bob K.
p.s. my new Jaguar Baritone rocks--in a totally quirky murky way!
Attached is a thing I recorded tonight with my new Jaguar. The Jag is the thing that sounds like a bass. Rough mix, not for public consumption.

you hear that public. Please don't consume this or mike would become rich and intolerable

copyright 2006 m doughton.

Turn it up and feast your ears on the growl of a Jaguar!

--Miguelito

<![if !vml]><![endif]>

<![if !vml]><![endif]>

<![if !vml]><![endif]>

Wherein Miguelito strokes a supposed half bass, half guitar which he calls a <![if !vml]>

<![endif]>

[that's gross man]

Tsk Tsk Miguelito. And just yesterday we discussed those murky areas between the magnificent valley of bass and trashy little guitar alley. And here we find you touching all over that place, and with some new hellfire instrument of the devil in your hand!!!! <![if !vml]><![endif]>

THANK YOU Ziph! I will continue in my efforts to bring us all together, to bridge the gaps that seem to differentiate and separate us, that are merely illusion, to dispel the ultimately petty disagreements over how many angels or antiprotons or bassists or guitarists can dance on the head of a pin. And what better tool than music? I couldn't have said it better myself, it IS a hellfire instrument of the devil! And I control it! BWAAA HAA HAHHAAA HA HA HA HA HAAAAAA!!!

<![if !vml]><![endif]>

Very Kool Miguel! I wish I could jam to it. Wait. Yes I can! I'm going to see if I can bring it into my recording software and add a track to it.

Please, though, wash that thing before you put it away!

<![if !vml]><![endif]>

Can hardly wait!

Actually, I was thinking it would be better with

your snarky bitch guitar all over it anyway!

Go for it Sean!

--Miguelito
<![if !vml]><![endif]>

The latest blog page is up and as an added bonus those who visit blog2 will be treated with a just-released live version of Sean's dinosaur song and trust me on this - Mr. Kennedy Smokes. Now if we could only get him to smoke pot again as I guarantee he was doing just before this take! Since the last 3 or 4 measures were cut off on the original you must forgive the sleight of hand trick ending. I submerge again for two days and then will be back with great ferocious veracious veracity and verbosity.
<![if !vml]>
<![endif]>
Ok, I'll visit the blog. Can hardly wait to hear Sean and the Dogs smokin! But I understand it's the hand movement that got Pee Wee in trouble. Stay tuned . . . . --Miguelito
<![if !vml]>

<![endif]>
Ziphler has articulated with "deadly" accuracy what we all knew and sensed at the time, but never spoke. That magical 3-point formula stated by Z is exactly what illuminated and inspired the Street Dog experience so brilliantly, and why I love your old recordings so much. It shows that Z's alchemical influence of the development of the ineffable Dog experience was huge, especially item 1 of Z's list. It's clear the Street Dogs would not have been the Street Dogs without Z, and PERHAPS Sean would not have become the player he is without that influence. The 3 point Z formula was something that subconsciously motivated (and still partly motivates) me musically, except I never reached such an accomplished state of improvisation. It is hard to find people who know how to do that, and it has always been easier to stay in a more structured musical realm. I would still like to find it, that magical elusive "something" that the Street Dogs had. It is why I am filled with such gratitude, awe and appreciation for the Dogs, a howling success story if there ever was one.

<![if !vml]><![endif]>

p.s. It's apparently the season for musical archival retrieval. In addition to Wicked Dog Street Laundry, a friend of mine is the daughter of Tiny Moore, the legendary western swing musician who played with the likes of Bob Wills, etc. He died in 1987. She is bringing over some of her personal reel-to-reel tapes from the 70's that have never been heard before, with her dad playing live with people like Merle Haggard, Reba Macintyre, etc. I'm going to see if I can transfer them to disc for her.
<![if !vml]><![endif]> I lack adequate words for this. I'm blown away yet again by the Dogs. Shit, you guys were way WAY better than I remembered. What an ass-crackin unit you were!

. . . one moment, one moment . . . colors, oh God the colors . . . blinding . . . blending . . . . infinite permutations receding into infinity . . . wait . . . wait . . . Oh, it's just a flashback. . . . . OK that's better now . . . . . . . uh, where was I? Oh yes, Dinosaur Song: killer rhythm section attached to a killer combination of Bob's super solid tasty rhythm chops engaging in a deliciously tasty and endlessly playful yet futile attempt to harness Sean's relentlessly ineffable, ineluctable yet unpredictable flights of spellbindingly flawless friggin assalicious axe molestation. AND you guys played together in the same key and time signature with jad a clever structure. How the hell did you do that? As I feebly recall, in those days our short terms memory rarely exceeded a kilobyte or two, collectively. Sean, nonetheless you achieved levels of brilliance I never before realized. I'm serious, I'm really just starting to get your brilliance as a musician. Truly impressive: such universally-connected, spiritually derived jamming, such inspired and original songwriting. This stuff shames Mozart. Sean, I LOVE how you play. I'll say that again: SEAN I LOVE HOW YOU PLAY. OK, OK, let me compose myself. Miguelito rarely gushes so shamelessly, but damn it, it's time Sean received the praise he deserves. Sean, you ROCK my world! Sean and the entire Dog Unit are hereby nominated and enshrined forever into the Intergalactic Hall of Eternally Bitchin Cloud Chamber Music from the Exploded Cortex of God's Melted Synapse Orchestra for Seriously Sick Tone Demons and Deranged Umbilical Chord Progressions. To Dinosaur Song! oh oh here come the swirling infinite colors again . . . . Thank you.

<![if !vml]><![endif]>
On behalf of the Street Dogs, I must thank you Mike for those....those ...made up and kind words. I think you should put out a shingle for consulting on "musician ego-boosting". It's much appreciated. However, (how do I put this), ahem..., yes..., the idea was marvelous. It was a marvelous concept. The execution though...... No doubt there is a lot of spiritual energy crammed into that electromagnetic energy imprint. We must have had fun making it but I don't remember.

Bartender-I'll have one of what he's having!

<![if !vml]><![endif]>
Miguelito,

Fear not. I've been having the same bizarre epiphanies as you about both Sean and Bob's friggin musical talents back then and only another 200 hours of cassette tapes in the suitcase to get through. All I can do is keep telling myself that behind every great guitar player is a great bass player - then I again begin to feel more centrally located.
Sean writes: "it was a marvelous concept. The execution though . . . "

In my line of work (prisons) "execution" has a particular meaning. And yes, Sean, the Street Dogs surely must have killed the entire crowd that evening. How could they not have succumbed to that mighty sonic attach?

I'll grant you it has a somewhat strange beginning, but that is part of the charm. Other parts rock immensely. It was the sound of IV, unfettered, unpolished, unselfconscious, raw and proud. Uber Dogs wailing into the infinite sky. I want to hear that sound again!

--Miguelito

Part of the problem is that when I play songs on my tinny shitbox computer speakers there is no bass. The other part is that being first a guitarist, I always focus on the guitar before anything else.

In the last few years I have been learning to play bass and I am blown away by the power and artistry of the instrument. I do not necessarily consider bass to be "behind" the other instruments, in fact it is often "above" them.

I have now burned the song onto CD and played it on my home stereo system and can report that Z bass is nicely tight and tasty as well. Bring that thang over here and jam on it!

--Miguelito

p.s. Regarding 200 hours: time flies when you're having fun!

"It was the sound of IV, unfettered, unpolished, unselfconscious, raw and proud. Uber Dogs wailing into the infinite sky."

I feel a song coming on. <![if !vml]><![endif]> What's an Uber? - Ziph